Benefiting the Georgetown Ministry Center's work with homeless people.
The Board of Directors of the
Georgetown Ministry Center invites you to the
2012 Spirit of Georgetown Benefit
and to honor
Alan and Nancy Taylor Bubes
October 17, 2012. 6:30 p.m. to 8:30 p.m.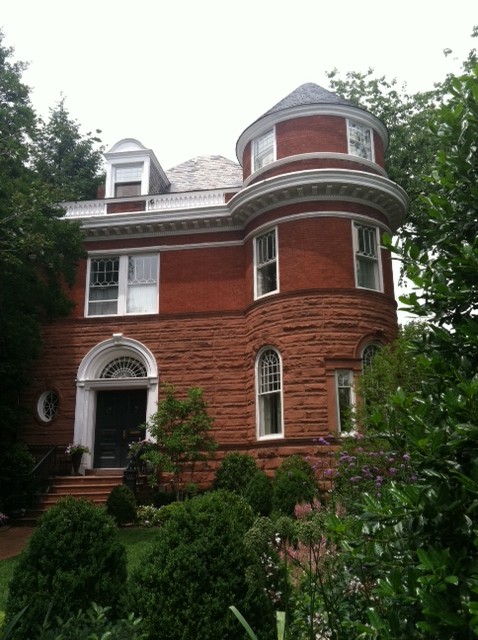 Please join us at the beautiful home of Amy and Mark Tercek
located at the corner of R and 32nd Street
Honoree
This year's benefit will honor Alan and  Nancy Taylor Bubes, for their many contributions to the community and for their keen support of the Georgetown Ministry Center for so many years.
The House
This historic turn-of-the-century house is in what was formally called Georgetown Heights, where grand free standing houses with larger lots are set on the highest part of Georgetown and neighbor Montrose Park, Dumbarton Oaks and the very lovely Tudor Place.  Each house along R Street is unique in its way and the Tercek's property has been beautifully decorated and restored.  This commanding Romanesque Victorian house is set on one of Georgetown's prettiest corners.  Resembling other period properties, it features a circular living room, dining room and large family room overlooking the exquisite garden and yard.
Register Now
Register by check
Georgetown Ministry Center
1041 Wisconsin Avenue, NW
Washington, DC 20007
Register by credit card
Patron $1000 | Host $500 | Special Friend $250 | Couple $200 | Individual $125
Please make checks payable to Georgetown Ministry Center.
Patrons
Tom Birch
Nancy & Alan Bubes
William & Catherine Burns
Tom Carver
Ellen M. Charles
Jocelyn Dyer & Michael Flanagan
Page Evans
Georgina & Outerbridge Horsey
John & Jean Lange
W. David Lawson
Tim & Jane Matz
Nancy & Mark Penn
Mr. & Mrs. Thomas D. Rutherfoord, Jr.
Roger & Vicki Sant
Page & Howard Smith
Susi & Dick Stoll
Amy Porter Stroh
Bank of Georgetown
Clyde Restaurant Group
The Pryor Foundation
Washington Fine Properties
Hosts
Frank & Georgine Anton
Elizabeth Avery & Alex Bullock
Peter & Cherry Baumbusch
Elizabeth Carhart Bluhm
Wiley & Janis Buchanan
Patricia Davies
Scott & Ellen Clare Dreyer
David & Margaret Dunning
Mr. & Mrs. Richard Miller Huber, Jr.
Chiswell & Barbara Langhorne
June & Jerry Libin
Elizabeth Krentzman & Mark Lysne
John & Liza Marshall
Caroline Ramsay & John Merriam
Herbert & Patrice Miller
Mr. & Mrs. Joseph A. Ryan
Shelley & Bruce Ross-Larson
Ann Satterwhite
Nancy & Simon Sidamon-Eristoff
Maral & Bill Skelsey
Crawford Feagin Stone
Susanna King & Bruce Sutherland
Carrington & Jake Tarr
Peggy Tomlinson
Jessica & Henry Townsend
Special Friends
Mary Arden Batch
Ron Bubes
Fran & Frank Butler
Nora L. Cameron
Mary Page & Tom Evans
Joseph Goulden & Leslie Smith
Mr. & Mrs. Thomas Hague
The Phoenix – John & Sharon Hays
Richard & Pam Hinds
Nancy Itteilag & Jack Donnelly
Jim & Lesley Lee
Ellen Martin
Laura Nelson & Steve Pearlman
Catherine Toregas
Ann & Bob vom Eigen
John Wiebenson
Christian Zapatka
Click here to view past Spirit of Georgetown news and pictures.